What is one of the fastest growing fan influencers and money makers in hockey around the world? The team Mascot. Love them or loath them these larger than life characters are becoming hard to get away from. As an ever increasing number of clubs at rinks across the globe deploy them as a marketing tool.
A Mascot of the New Era
Take the example of "Gritty" the newest mascot in the National Hockey League. Gritty is really just a long-haired orange fluff ball with some googly-eyes who's dressed in a Flyers kit.
On his unveiling Gritty sparked a marmite style response among the hockey community and with the media all over the world from the new yorker to the BBC and everything in-between. Philadelphia based PR firm, Devine + Partners estimate Gritty reached $4.77 billion people online and generated $151 million in online news publicity within 30 days of his debut.
Rumour has it Gritty was "born" after the all-stars game in 2017 by a team of marketing experts. Coming into being as a result of a conversation in which the son of Flyers chief operating officer enquired why the team didn't have a mascot. Marketing executives quickly estimated that a mascot could attend between 200-300 games and community events; Flyers wanted a new era mascot to do this, a character you would want to high five and not hug.
Just Someone in a Costume at Home Games?
This new approach seems to be working, at just six months old Gritty has gained a huge fan base with over 242k on Twitter and 123k on Instagram. Within his first 24 hours in existence he had made it into the top 10 most searched terms on google, danced on "Good Morning America" and appeared on "Tonight show with Jimmy Fallon". Joe Heller the vice president of Flyers marketing claims all of this added up to reaching over 69 million viewers on national television.
Merchandise for mascots has become a big growing business, many examples can be seen in the NHL store.
It is impossible to ignore the interest mascots are now drawing to both club's and ice hockey as a whole. A new era of mascots continues to gather pace with mascots no longer being simple period break entertainment.
A Simple Job or a More Complex Subculture as a Mascot?
Speaking with youth-hockey.org, we take a closer look at what it means to be a modern day mascot.
The USA and Canada it seems has a subculture of mascots that work for the major sports. Often if a mascot position becomes available it will be auditioned for by mascots from other teams or people with many years experience with lower league teams. It is unusual to see an advert for a team mascot; many jobs are word of mouth, with current mascots suggesting those they feel would be a good fit for the role.
Qualities teams are on the look for in a mascot are wide-ranging. Gymnasts skills are usually required for the role due to the demanding nature of the activities expected; although this is not always the case. Having an outgoing and exaggerated personality especially when in costume is a total must. A potential mascot must be extremely flexible in terms of their schedules and hours they are available to work because events within the community take place at varying times of the day and evening and change regularly. As with any job the role differs slightly by employer so there are of course differences in teams and leagues. Furthermore, teams can spend anywhere from $2000 up to in excess of $30,000 for a mascot suit and often have more than one; a lot is expected from the person in the mascot suit.
Can you keep a secret?
The official job title for the role is mascot coordinator. This is a job title that encompasses both the mascot and the mascot coordinators; so as no-one can establish if you are the mascot or simply a handler. Teams in all of the big four sports in America will require you sign a non disclosure agreement upon appointment.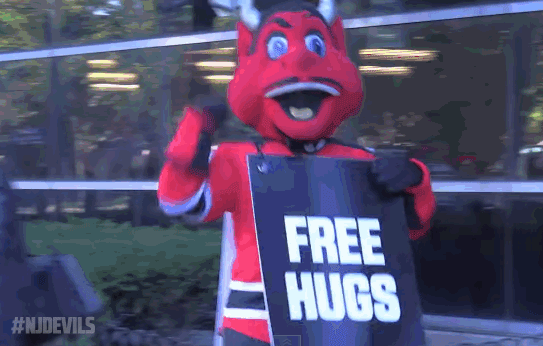 Expect Even More Madness to Come
Regardless of your views on mascots the current statistics and profits are difficult to dispute. Hockey teams around the globe are poised to continue raising the profiles for these lucrative cash cows. Therefore, expect to see more madness with many enjoying continued celebrity statues once reserved for what many will term "real people"!
Feature Image Credit: NHL.com